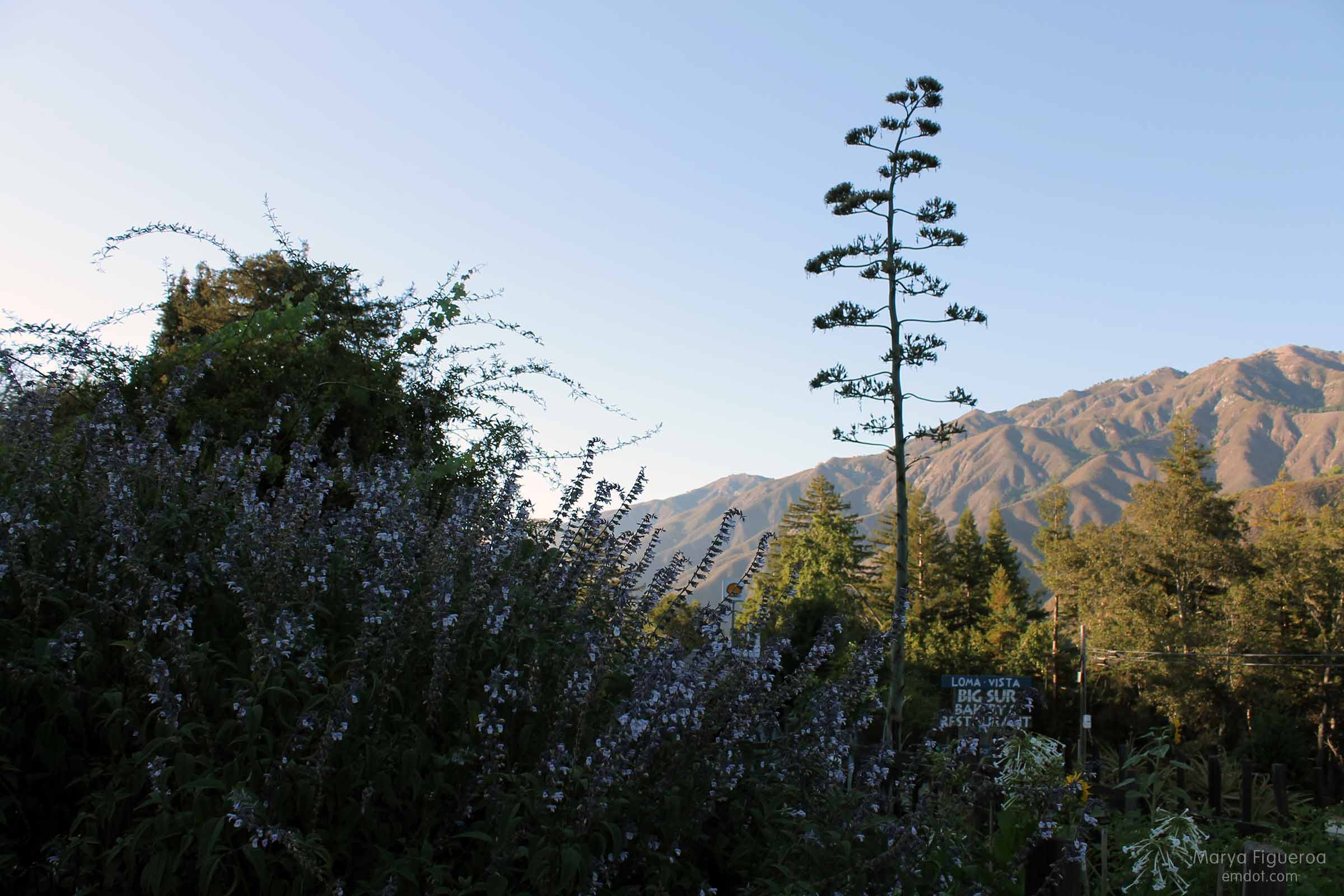 Just a week and a half after falling and breaking my arm I went back to Big Sur. My mom and I have a tradition: Big Sur on our Birthdays. Hers is in May, mine's in September. These trips tend to be great anchors to the beginning and end of summer. We've been doing this since I was in my late teens or early twenties. And every trip (every. trip.) includes a stop at Nepenthe.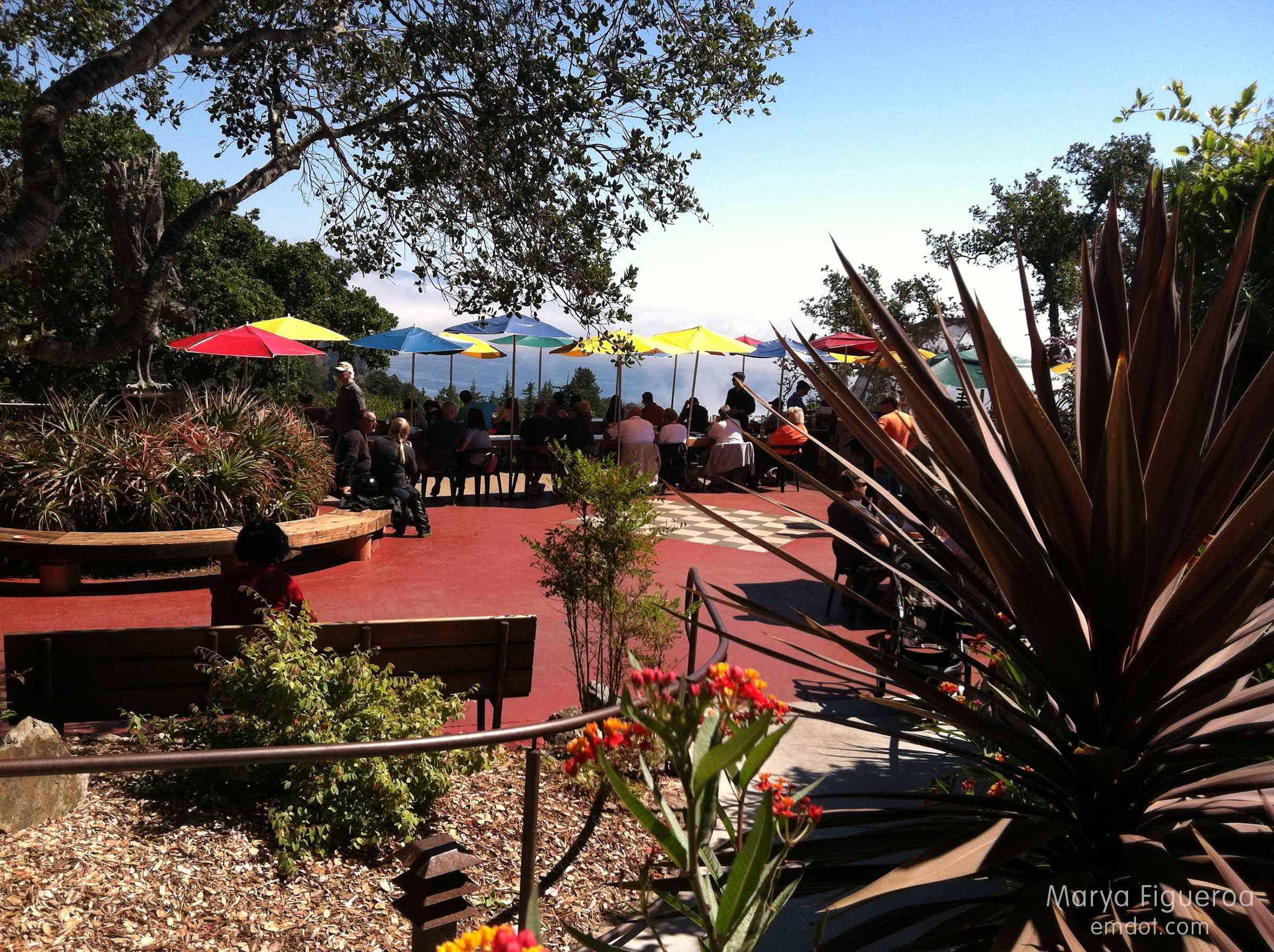 We are fans of both Nepenthe and its prodigy. We find the Fassett family fascinating. We each have the Nepenthe cookbook written by one of the Fassett granddaughters (it's awesome; you should get it.). I gave my mom one of Kaffe Fassett's knitting books as a gift. And for my birthday, my mom made me a lap quilt from Kaffe Fassett fabric.
The Fassett's still own and operate Nepenthe. Decades before, this spot was owned by Orson Welles and Rita Hayworth. It's been visited by dignitaries, luminaries, celebrities, artists, vagabonds, and hustlers. It's a jewel, I'm sure, to Big Sur locals. The food is pretty good and pretty pricy and the view and surroundings make it worth every penny.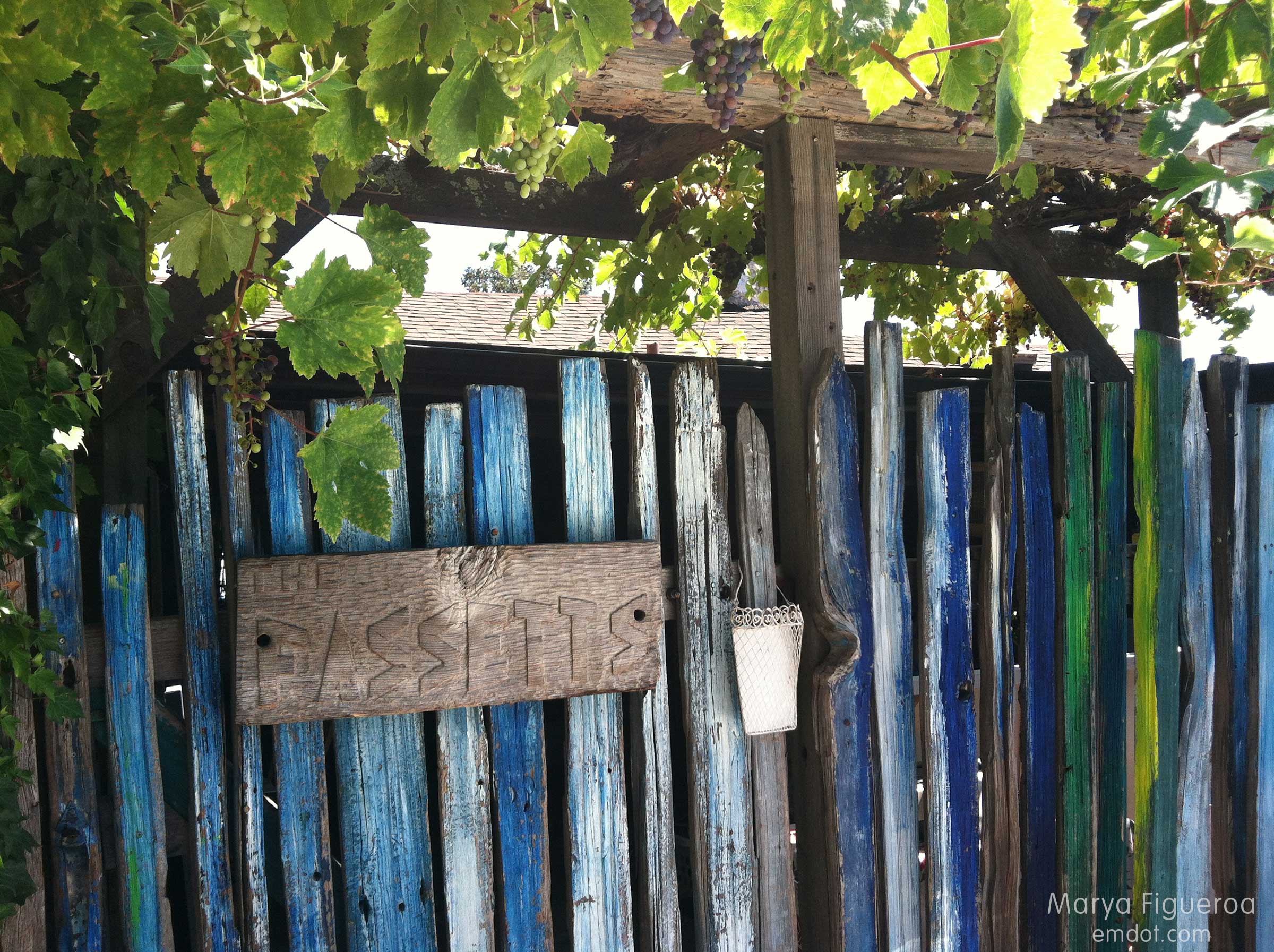 But on this trip we simply stopped to browse and shop at The Phoenix Bookstore (always great things there) and perhaps have a piece of (birthday commemorating) pie at Cafe Kevah. (Note to those who've never visited: the umbrella photos are of the Nepenthe patio, not of Cafe Kevah.)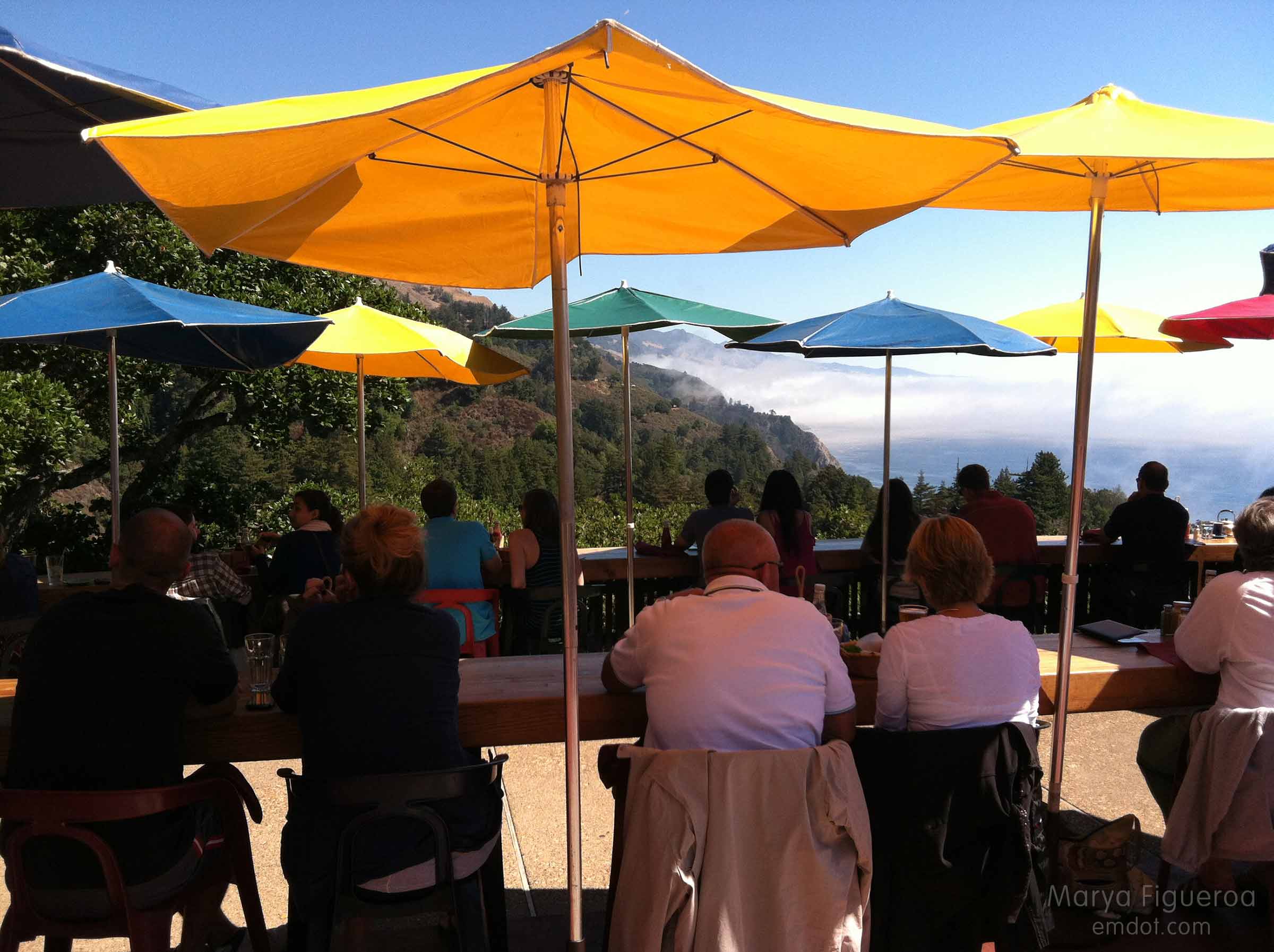 Alas, there was no pie at Cafe Kevah. We considered having a scone and a cup of coffee, but for whatever reason, I think we both felt compelled to keep traveling north, though we had no destination in mind.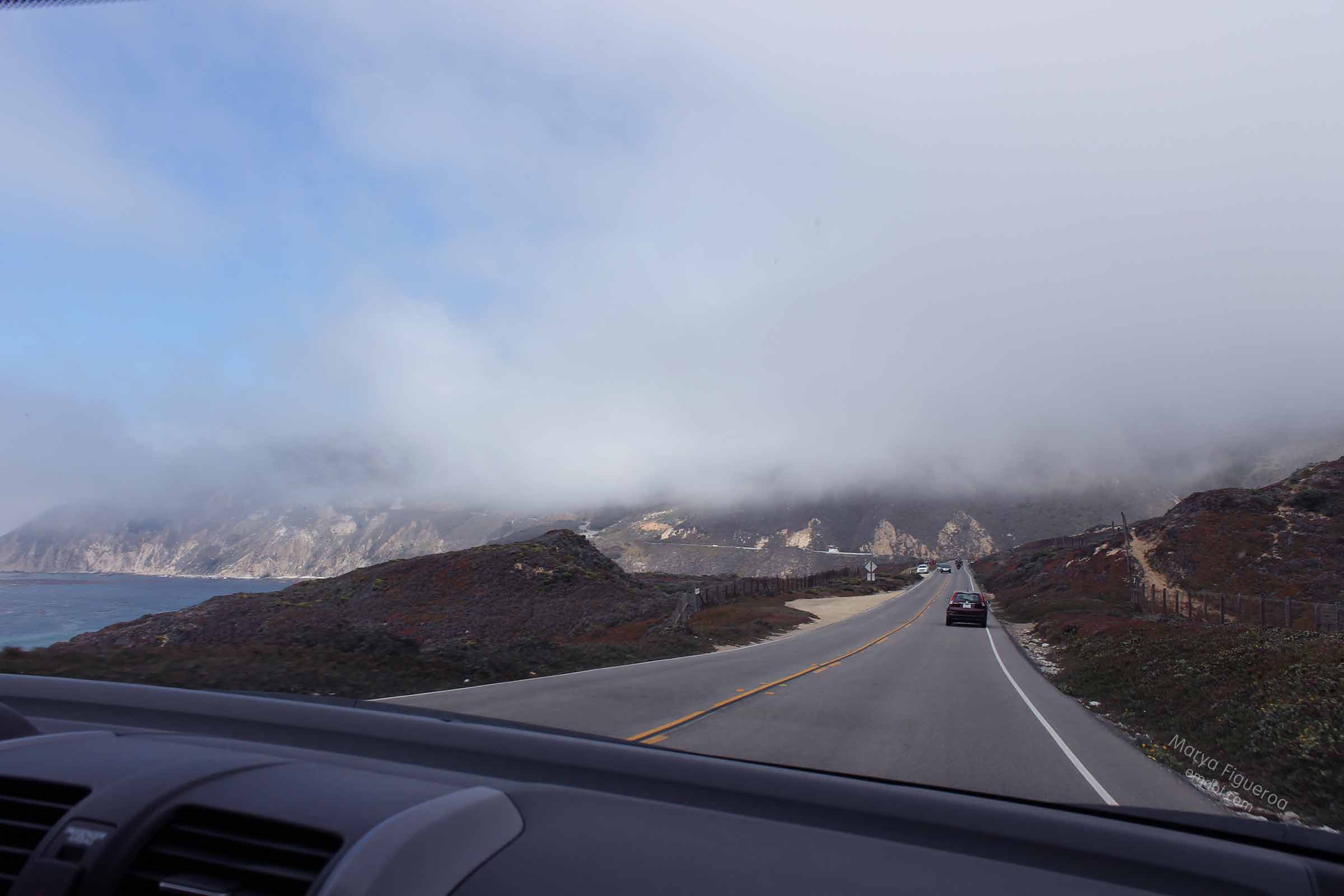 Mom suggested eating in Carmel and we both thought this was a great idea. However, we didn't find the right place there either. We took in the beach, got our feet sandy and wet, and wound up back in the car driving south, still hungry and seeking that perfect place to eat.
And I'm so happy to tell you that we found it: the Big Sur Bakery.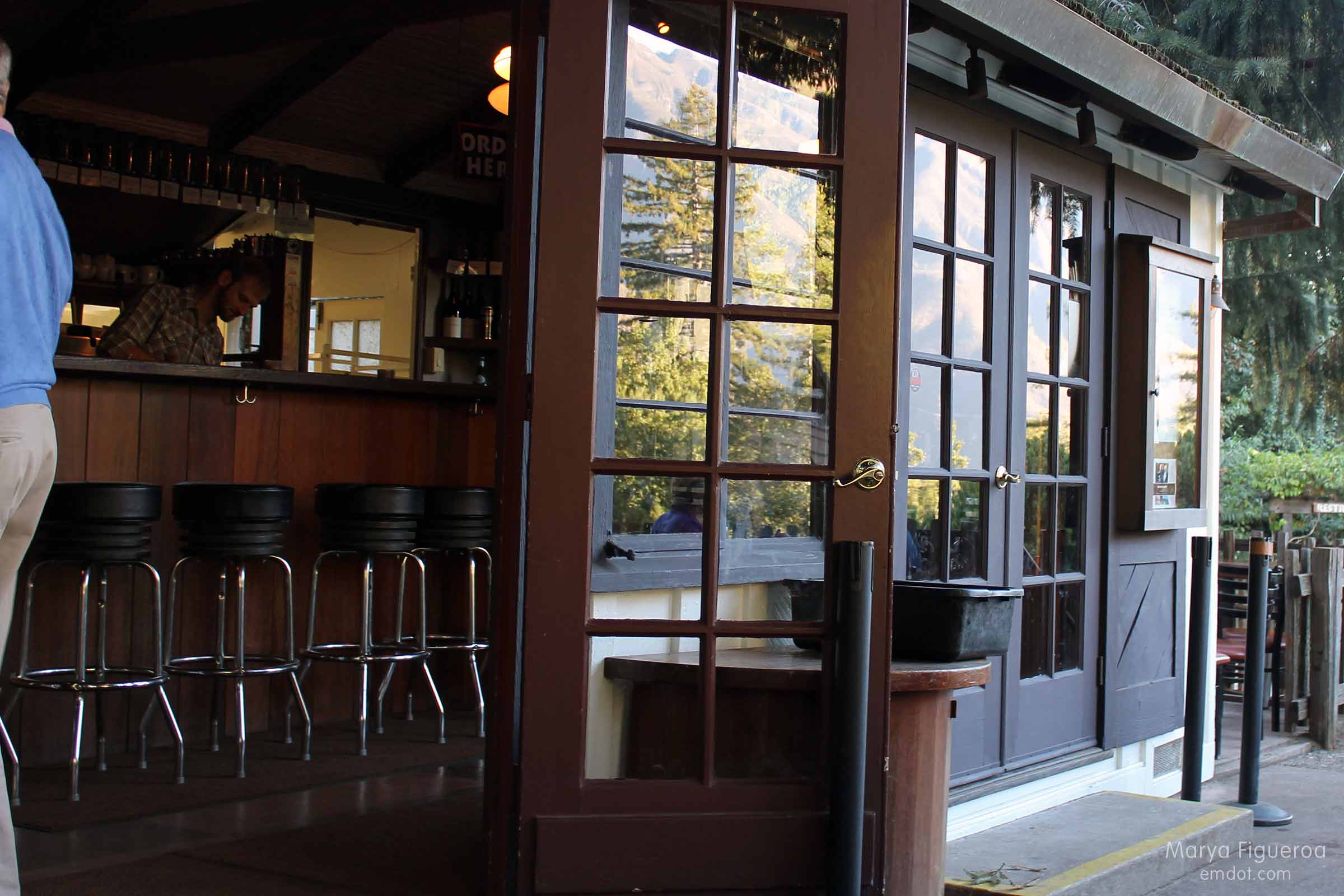 I've been circling this place for the last year, mostly trying to get a loaf of bread. But they sell out. Often. Or every time I tried. In June Steve and I had lovely pastries and tea. A step in the right direction for sure. But this — on my birthday trip — proved to be the day when it would all come together: bread! dinner! cake! and an amazing waiter who made us feel special and well taken care of. Seriously, it was perfect.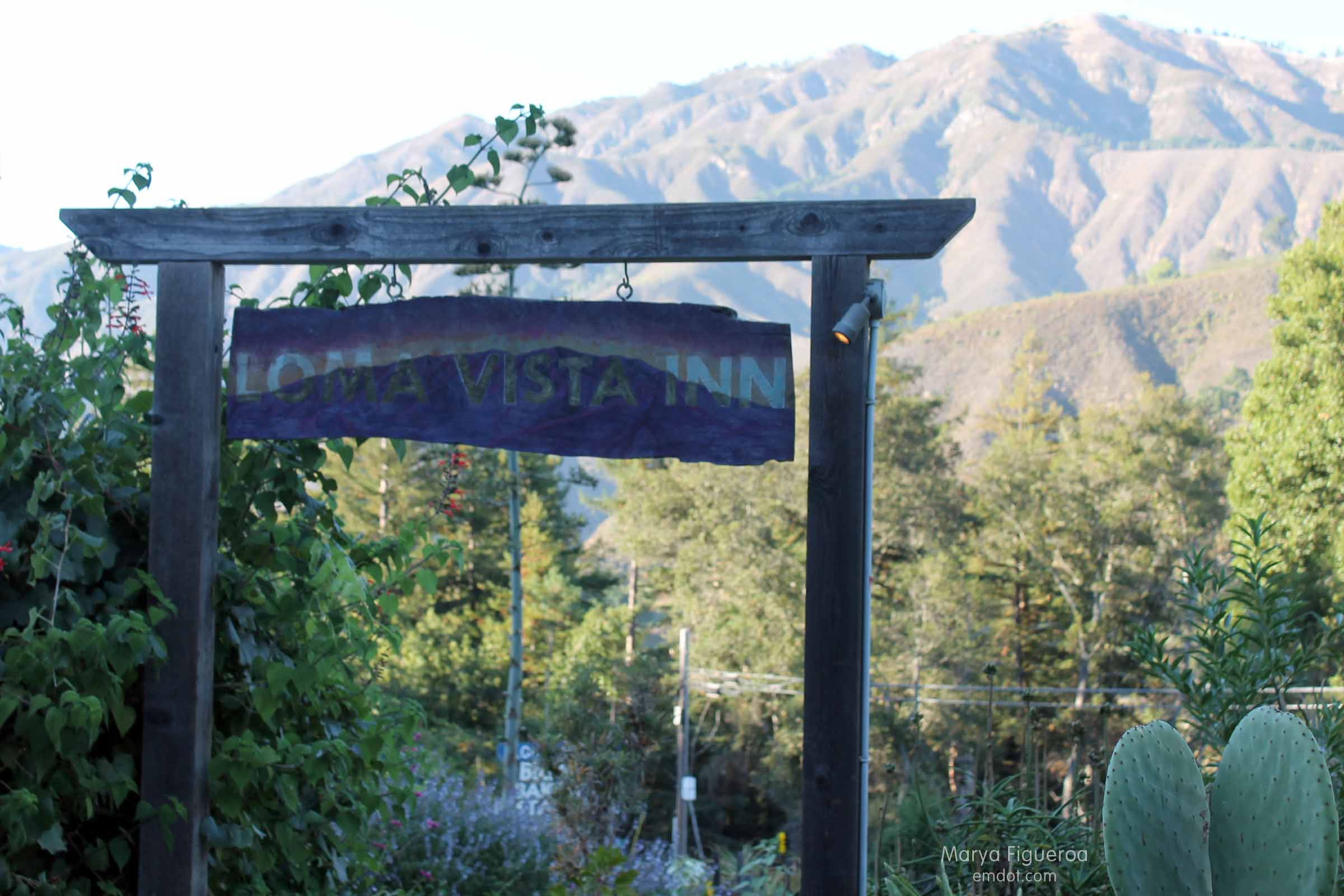 But first I will show you around the place circa magic hour. The sign that welcomes you from parking lot to garden.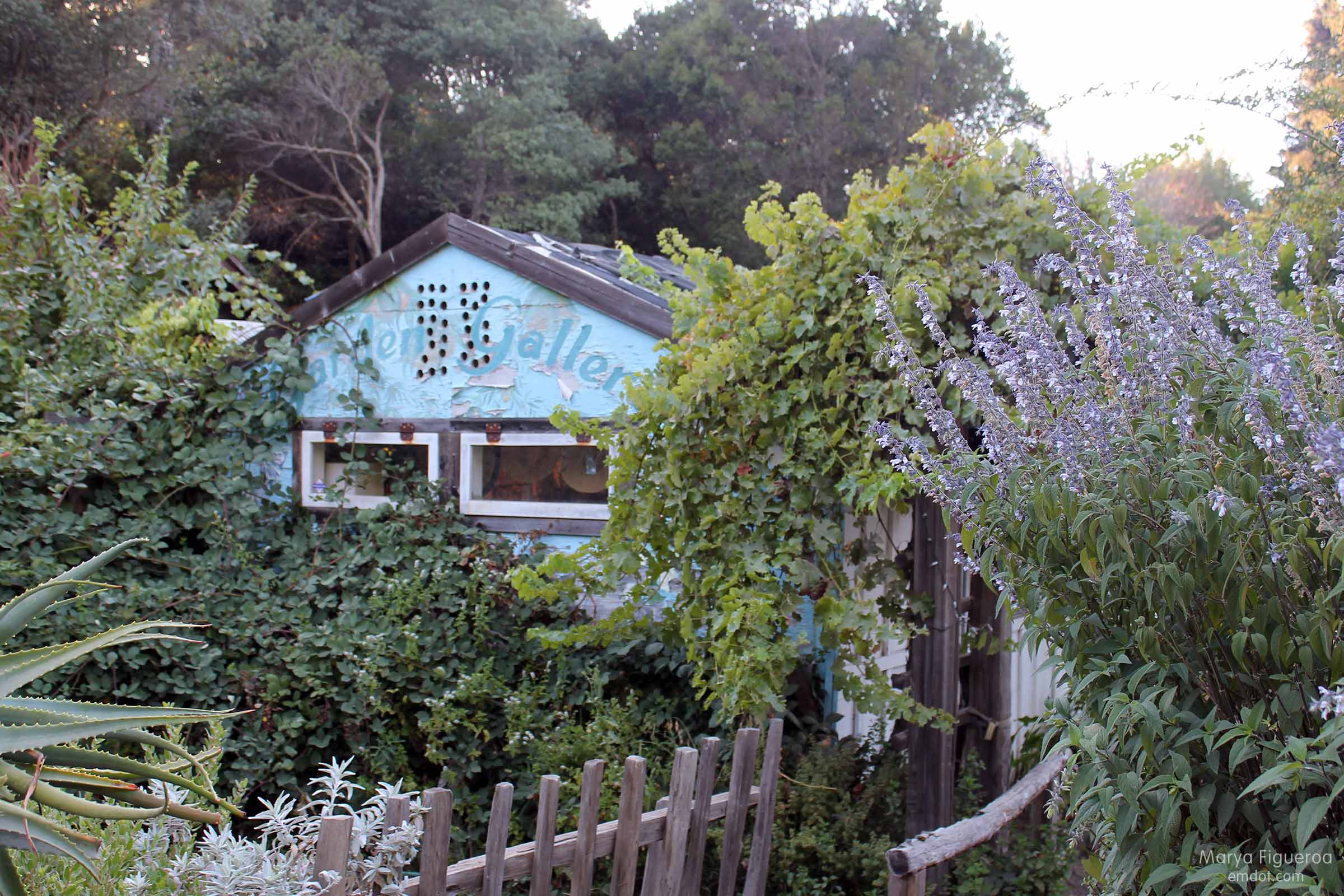 The gift shop that has artsy-farsty touristy things you should buy.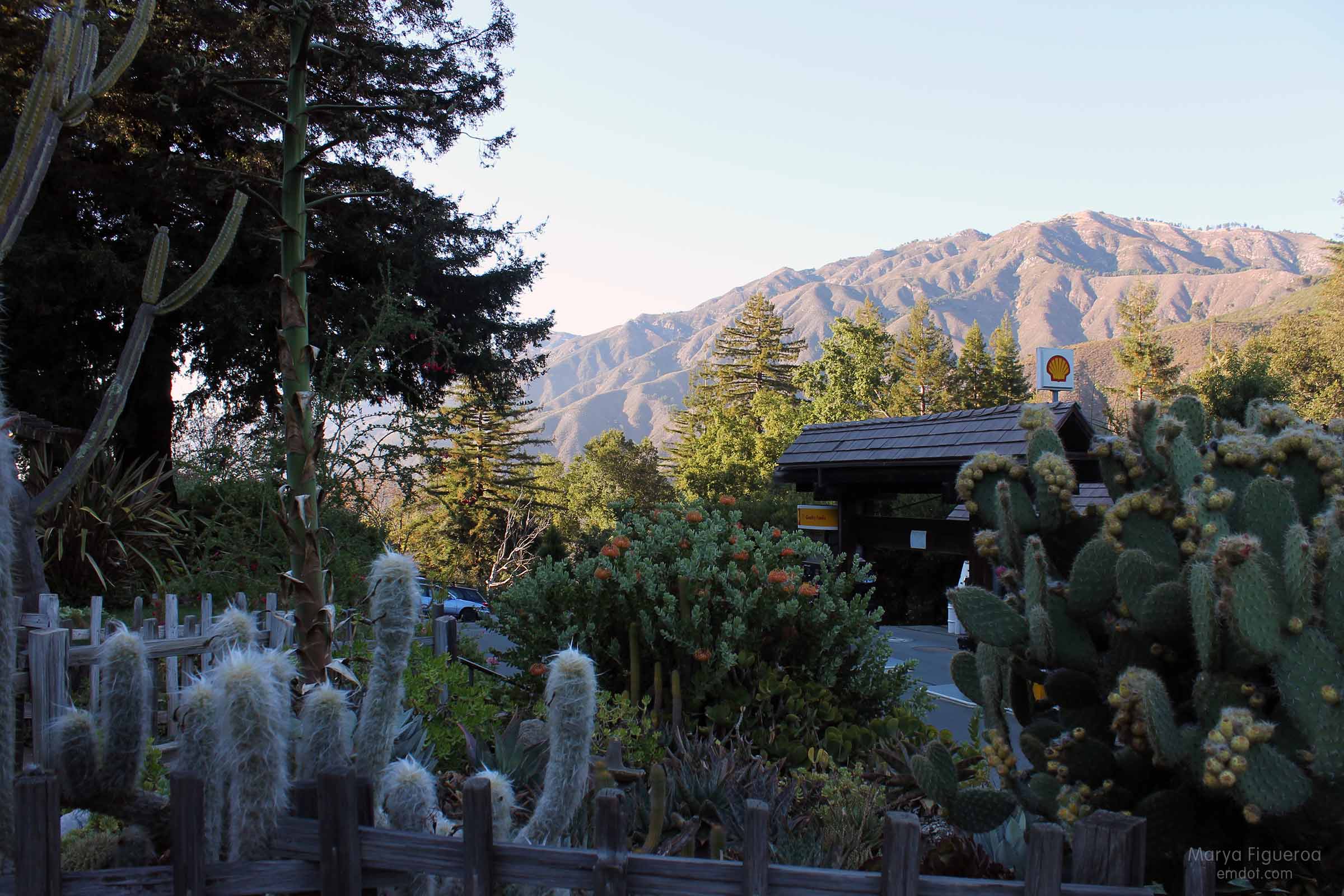 The view of the hills from the garden (and gas station).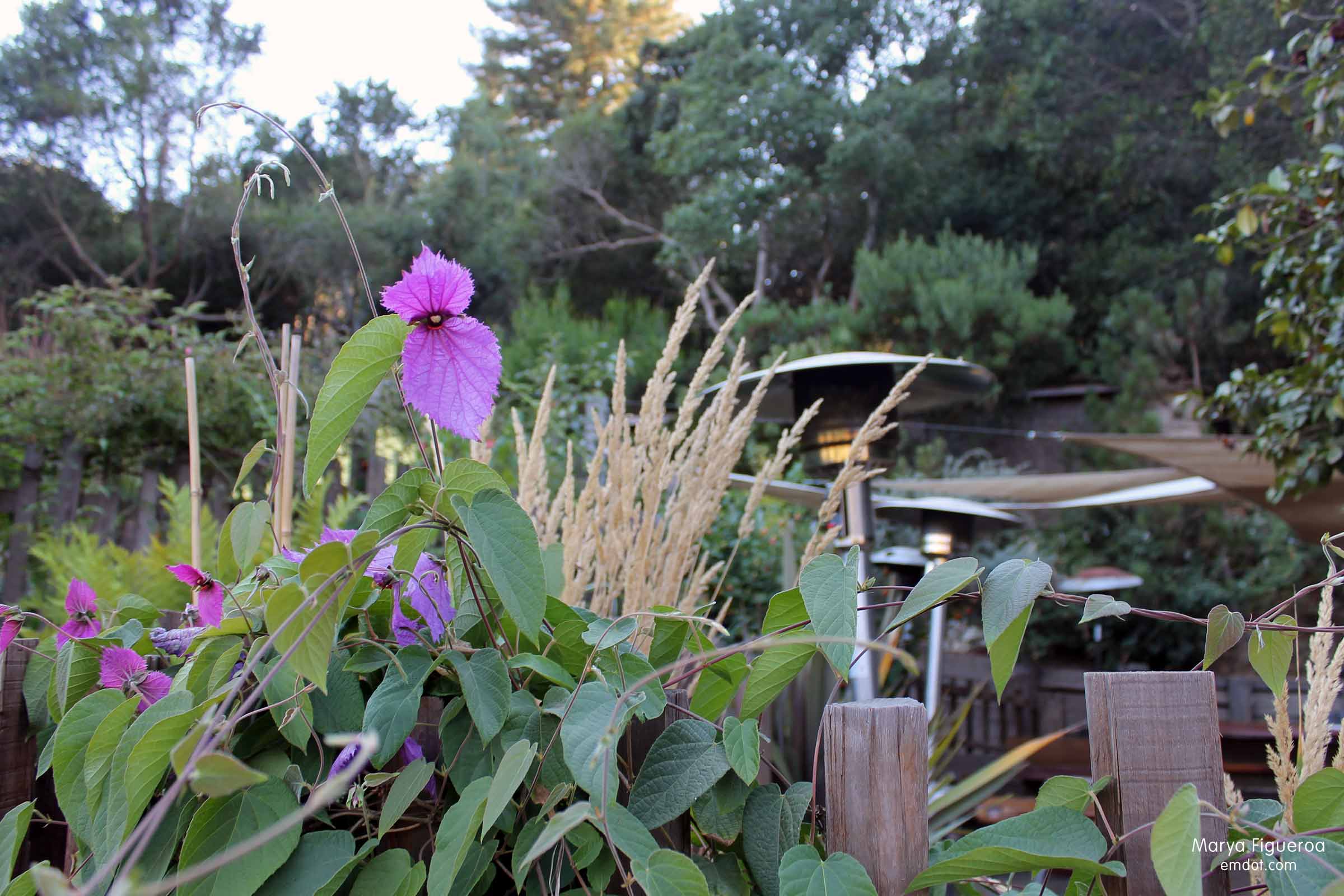 Flower and vine and grasses and shrubbery, setting the tone.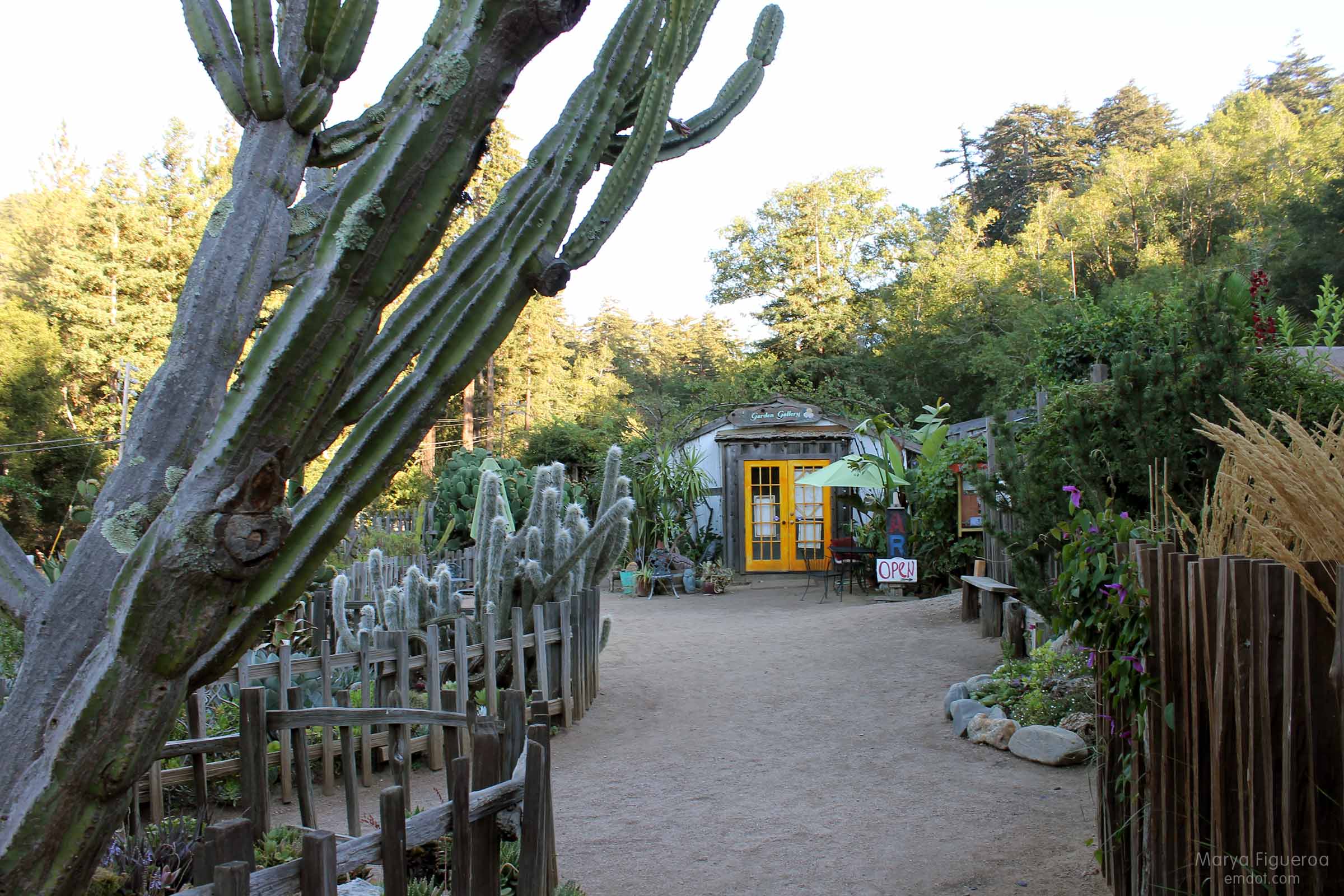 A look back on the garden shed. (Seriously, I think I'm in love with this place.)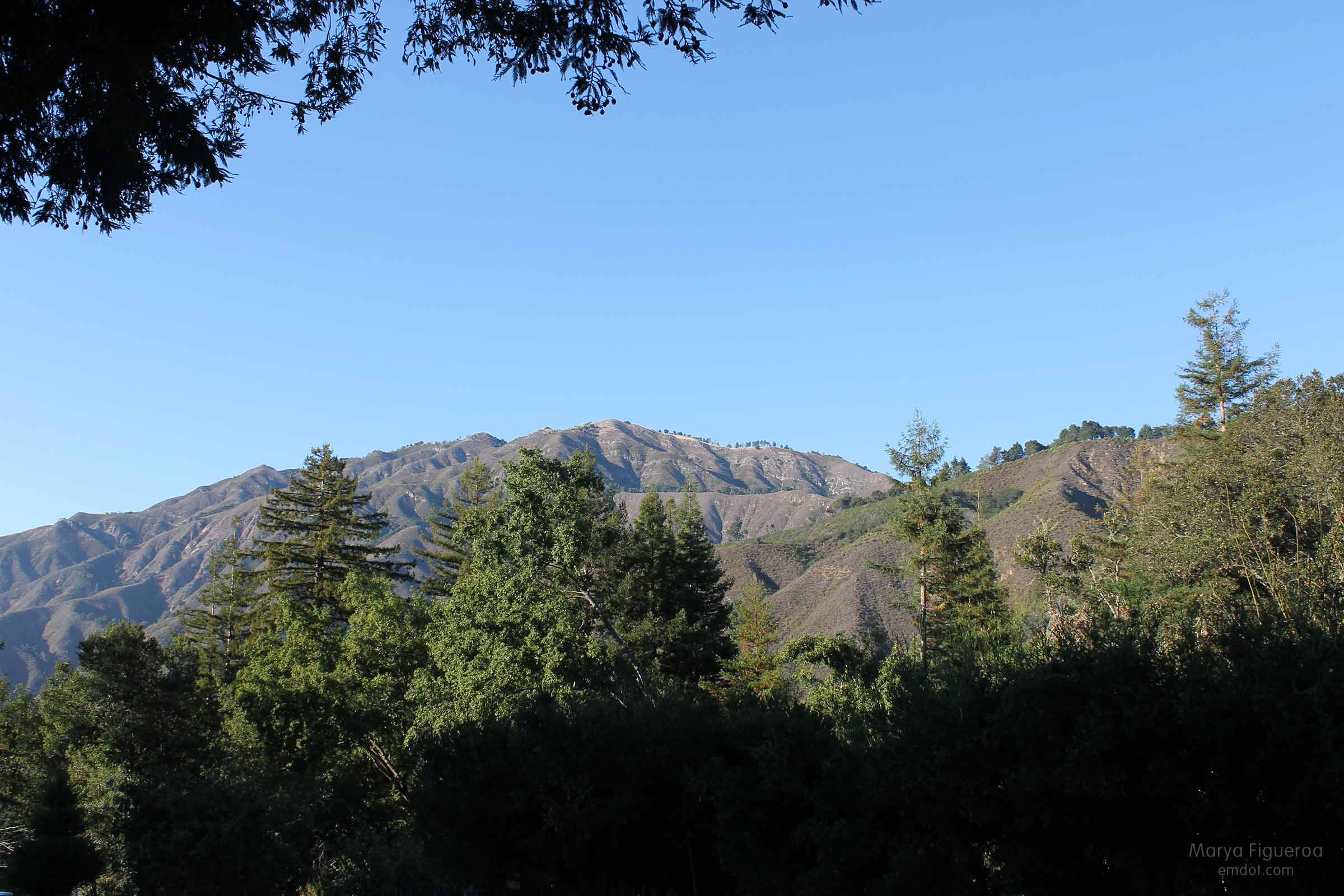 The view from our table.
We chose to eat outside on the patio even tho it was quite chilly (this is where the lap quilt my mom had just given me came in handy. I wrapped around my legs and lap.). But the light was pretty and the setting so nice; how could we not?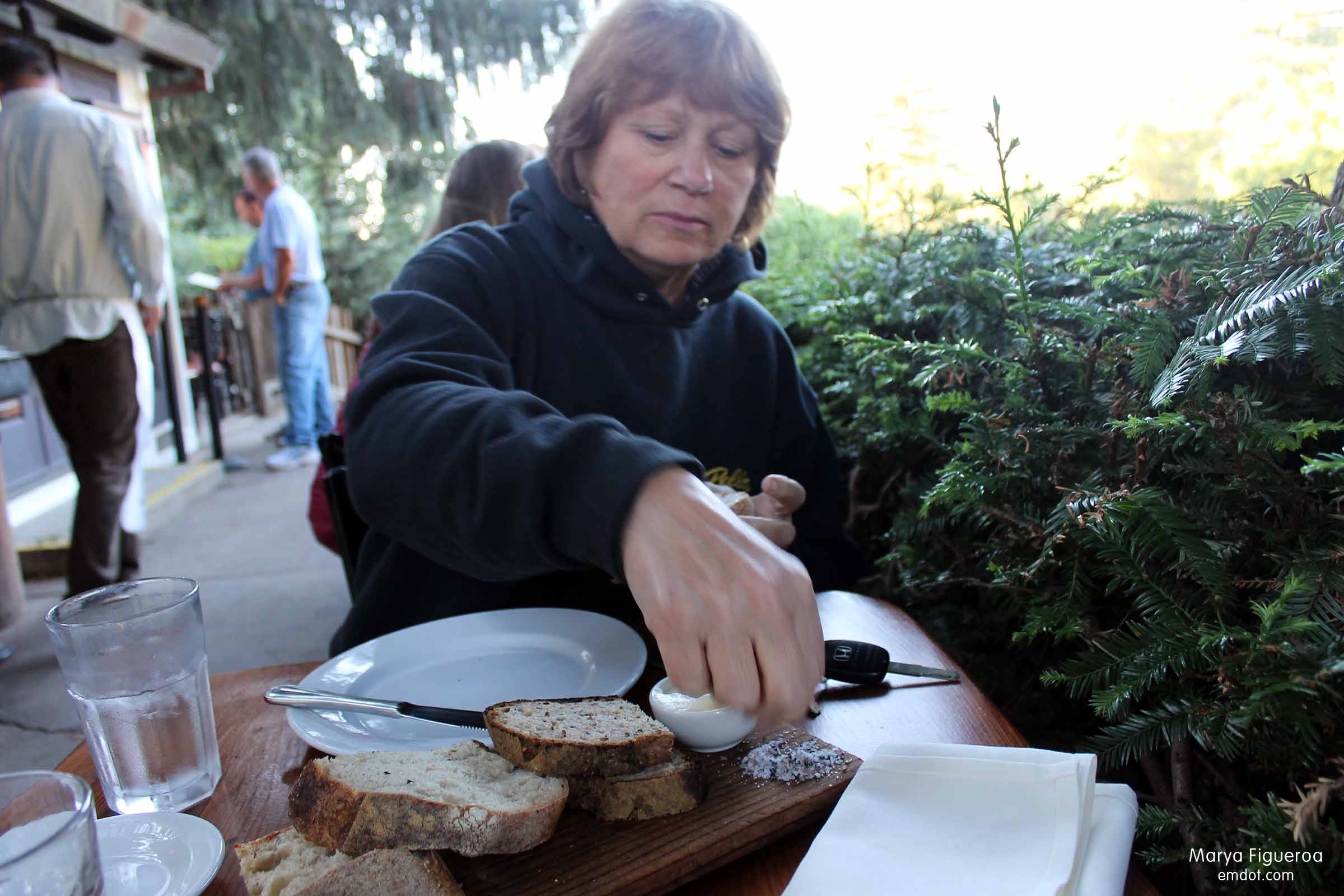 The Big Sur Bakery doesn't serve tapas, but we took a tapas route in our ordering, sharing everything. First up: the bread board. I'm sorry. I mis-wrote. Ahem: THE PERFECT MOST AWESOME DELICIOUS BREAD BOARD IN THE HISTORY OF BREAD BOARDS.
Then there was the dinner and I did take photos, but none of them turned out (the light was getting lower). We chose sides: a side of carrot sauce + heavenly vegetables + quinoa and mashed potatoes a la St. Peter's Gate (okay, I'm paraphrasing). My mistake was not writing the names of the dishes down. Instead, this is what I will tell you: healthy ingredients bathed in mouthwatering delight. Our dinner was all oohs, ahhs and mmmms.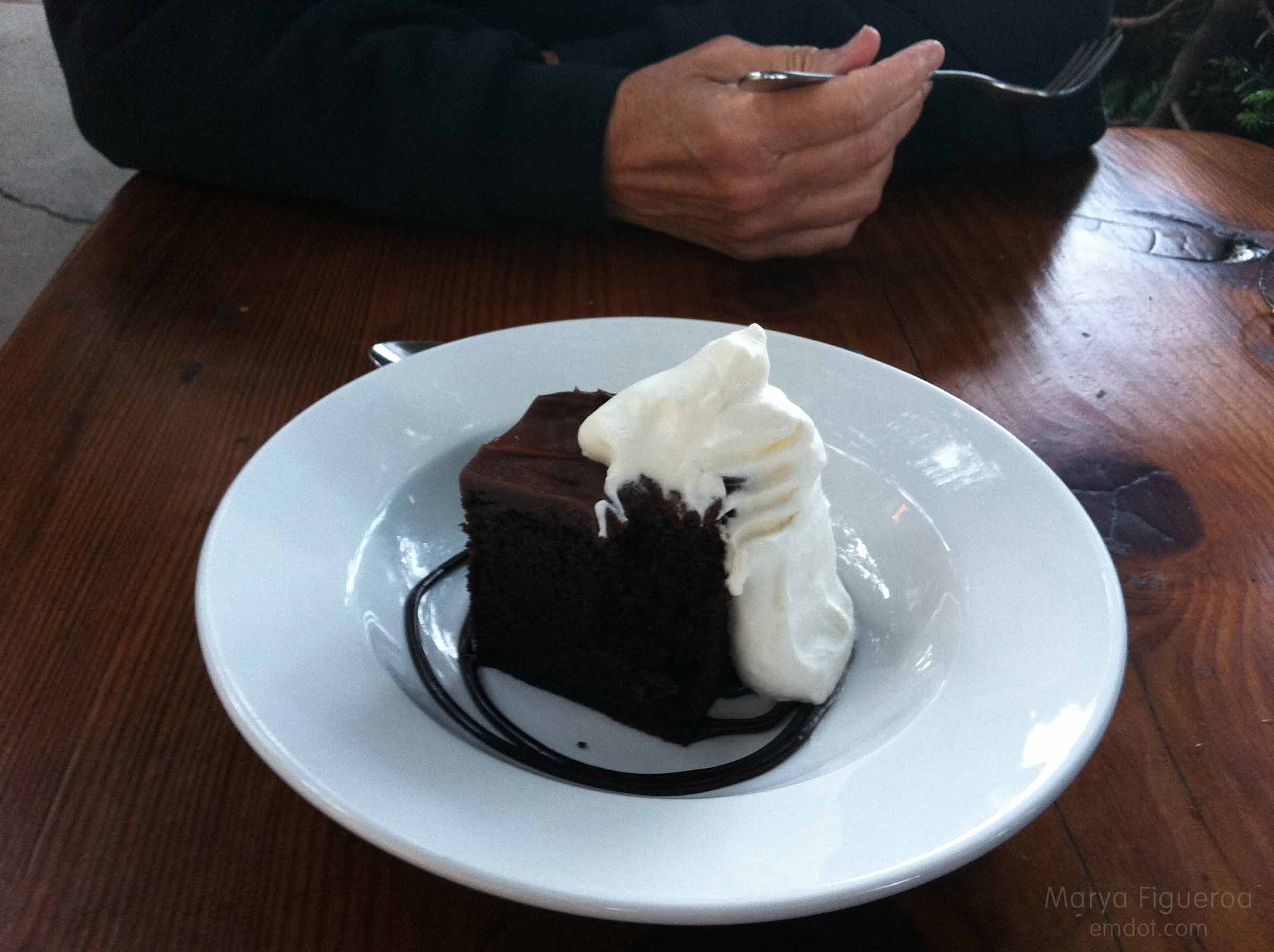 To top it off, we had an amazing waiter. You know the kind: charming but not cloy. Attentive, but not hovering. Sweet, professional, witty: all three. He really took care of us. When I asked if they had dessert he kind of had to muffle a chuckle. "We are a bakery," he said with a sly smile and then brought out a piece of chocolate cake I will talk about for years.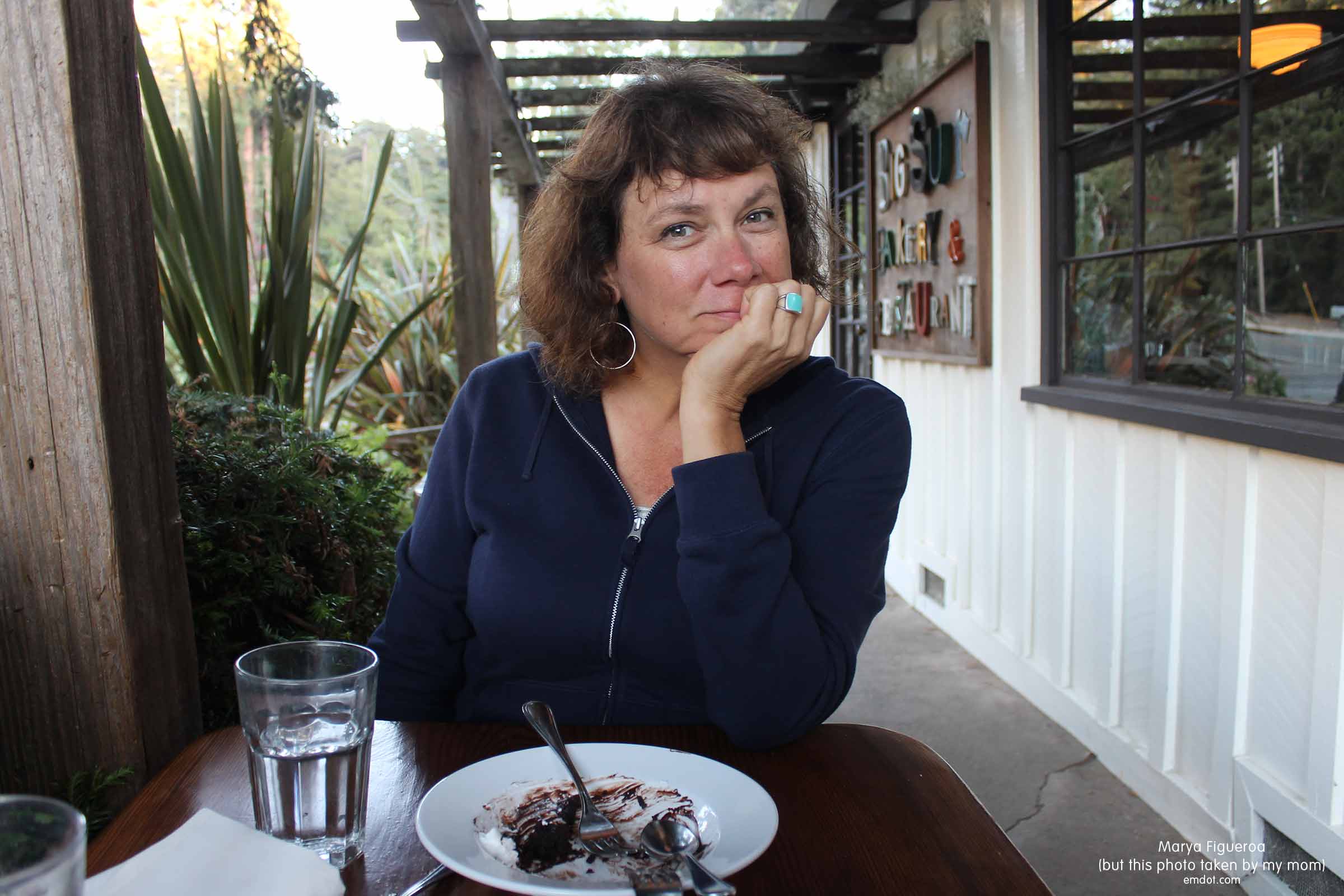 My friend Rob made an off-hand remark online the other day about always showing his and his wife's before-dinner photos — when the tables are pretty and the food untouched. He balanced things out by showing a true after photo: everyone satiated and the table a mini-shambles. This prompted me to get an after-the-cake photo. Still looking good, though, right? No shame in polishing off that one. (Okay, truth: mom and I split the cake, too.).
All this to say: go to the Big Sur Bakery for your Big Sur meal. Go go go. Make a reservation or wait in line. Do it. It's delicious, it's worth every penny, and the people that work there are nice. The view is nice, too.
Thanks to my mom for being my partner in Big Sur Birthday traveling. I love this tradition.