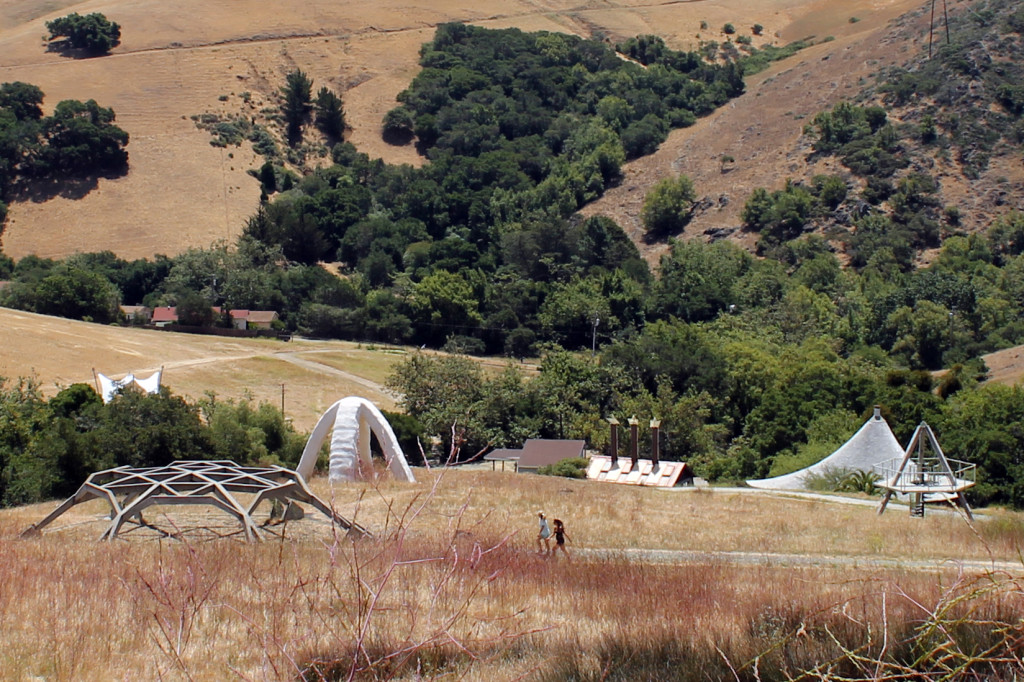 Poly Canyon is part of the Cal Poly campus and consists mostly of a nicely maintained road lined with oaks, sycamores and chaparral, following a creek path on its north side. Towards the end of the road is the Design Village, a space where architecture students go out to build experimental structures. Each spring the space comes alive with new buildings, sculptures and other cool projects, but for the most part they come down at the end of April.
Some structures are more permanent and you can walk up to them, though are encouraged not to enter with "No trespassing!" signs and warnings of surveillance cameras. With the amount of graffiti inside, it seems as though not many follow the instructions.
Lovely walk and cool buildings. We spent much longer out there than we expected. Overall hike/walk is about 2.5 miles.
This spring/early summer there have been numerous mountain lion and rattlesnake sightings. Maybe because it is hotter and dryer than usual? This is the entrance to the area.
Hotter and dryer seems to work in the favor of poison oak, too. Look at that massive outcrop (it's the red bit). Yikes!
Still patches of flowers to be found.
Off the side of the road is the entrance to the Design Village.
And a map of the different structures.
The geodesic dome is cool and has an amphitheater inside. I think this would be a great place to bring your lunch during the work day if you work at Cal Poly.
This structure echoes the dome motif, but obviously isn't geodesic. More outerspace-ic. Ruin-ic. Cooleriffic. Mustardtastic.
The Shell House was my favorite and suffered the most from graffiti. Too bad. I vote for a Senior Project to clean it up. In fact, I thought it would be interesting to have senior projects to fix up several of the structures that seem to be headed for ruin.
The inside of the Shell House. You can walk up stairs to a second floor. Someone did while we were there and my questions were "are you sure those are stairs and not shelves?" and "Are you sure that's safe?" I kept my questions to myself.
I am a sucker for a house that plays well with its natural landscape. Love this.
Not sure of the name of this house, but I loved the stove pipes.
The sign to this structure said "Residential House" and it was unclear — did someone actually live in it? It seems like they could. The back side had a great metal-sign collage siding. Loved it. We didn't linger, though, because it did feel as if we were in someone's space although you couldn't really tell if it was inhabited or not.
The beginning of June means the last green holdouts on the hillsides are losing their fight. Soon it will be all golden, all tan, all brown. All dusty. This last little bit of green was nice to see. (It was a nice, lush green run this year, I think.)
More structures from the trail.
This cantilevered structure was really cool. I couldn't find a name for it (I'll have to pay more attention to signs next time I'm up there.). An abandoned pirate's ship… in the middle of a sea of wild grass.